Intelligent Agents: How Software and Humans Can Work Together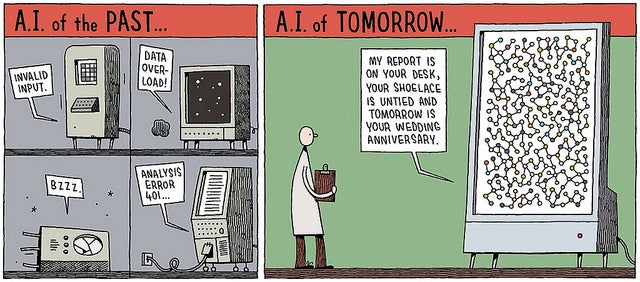 The fascinating research into artificial intelligence, the semantic web and agent technologies highlights the increased efficiency that happens when software mimics and improves on human processes. Take Google for example. Research used to be tedious and time-consuming. Additionally, you were limited to the resources in your immediate area. Google now crawls around the web indexing all of this content, conforming the information to an sophisticated algothrym that tries to predict what you want based on a query you provide.
This is the big picture that drives the work we do at OpenSesame. At our core, we are striving to provide a tool that simplifies the course selection and delivery process--a user agent so to speak. Currently, much of that system still involves a human element. A buyer can browse our course catalog using a series of filters and search terms to narrow results. To refine the process even further, our course concierge service puts you in contact with a human who then assesses your needs through a series of questions, providing personalized recommendations catered to your needs.
In the future, technological advances in artificial intelligence collaborating with tools already designed for search could predict what elearning buyers needed from just a single piece of information. The resulting customized recommendations could then not only be limited to courses, but what assessments are provided depending on how the user learns, or training courses that adapt in real-time based on a user's engagement.
The possibilities are endless and boy...are they exciting!
To learn more about agent technology, artificial intelligence and the semantic web, check out a few of our favorite resources:
The Agent Sourcebook: A Complete Guide to Desktop, Internet and Intranet Agents
The practical elements of this book are a bit outdated, but the theory behind intelligence agents and how they work is still valid today.  
TEDtalk by Shyam Sankar: 'The rise of human-computer cooperation'
An innovator in the data mining field, Sankar explains big problems can be solved not by algorithms, but through a collaboration of computation and human creativity.  
Kurzweil: Accelerating Intelligence
A website exploring the exponential growth of technology, from nanotechnology to human brain reverse engineering, and these innovations impact our world.
Hoping to get in on the ground floor? Learn about programming through the various courses we offer.
Image credit: Tom Gauld