The shutdown of Google Reader is far from the end of RSS. In fact, it has become a catalyst for innovation in news aggregation and has driven attention towards the value of RSS in social reach and brand development. At OpenSesame, we've been looking at ways to make sure our blog is up-to-speed and ready to go. Here are some tips we discovered in the process:
Use visuals!
Moving forward it is important to consider the different RSS readers people are using to replace Google Reader. Whereas there are many apps which are attempting to stay true to Google Reader's traditional style, such as The Old Reader and Digg Reader, other readers, like Pulse, are diverging from the traditional RSS experience and becoming more visual. One of the favorite replacements for Google Reader so far, Feedly, is an example of this. Another popular application, Flipboard, takes a completely unconventional approach to RSS and makes a personalized magazine based on subscribed feeds and social media.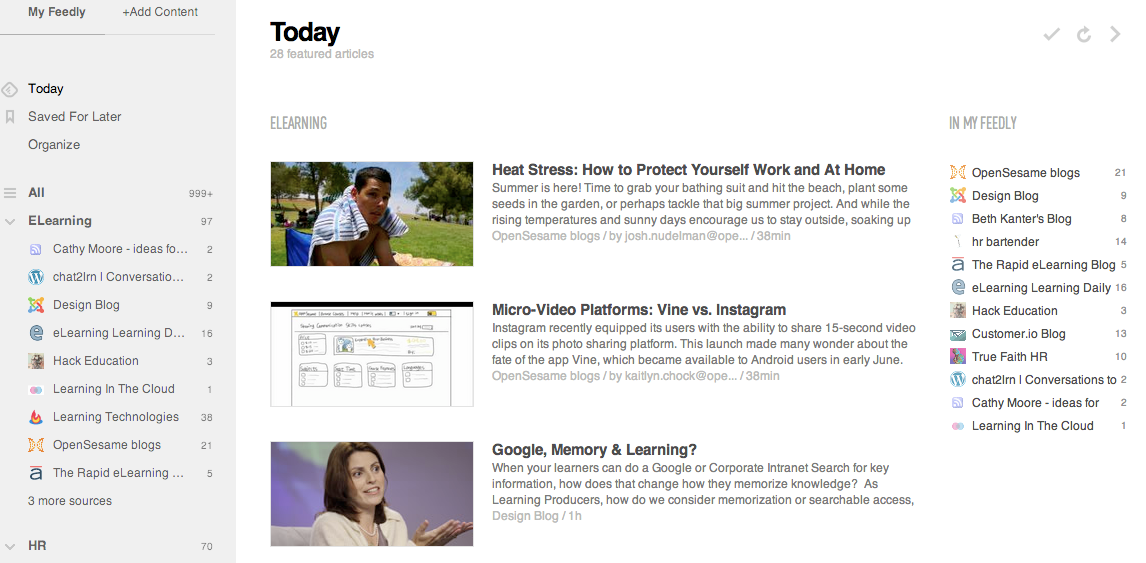 Each of these readers brings a new approach to news aggregation which you may be able to use to your advantage. If you haven't done so already, using visuals in your feed is an extremely important step. Many companies and news organizations make the mistake of not including visuals in their RSS feeds, which will hurt your subscriber counts on visual-oriented applications. 
Claim Your Name and Get Featured
One thing that Julien Genestoux, founder of Superfeedr, points out RSS ("Really Simple Syndication") really isn't that simple. It takes significantly more work to subscribe to an RSS feed than it does to follow a user on Twitter or "Like" a page on Facebook, and creators of the new RSS readers know this.
Feedly makes it very simple to subscribe to feeds by offering a search function and category browsing–both features that you CAN and SHOULD use. The free Feedly Publisher Tools allows you to claim your name or hashtag and request to be featured in a section. All you need to do is apply.
Flipboard also offers similar tools to Feedly, including a guide on making sure your RSS content looks good and an option to apply to allow your RSS content to be updated on Flipboard. Here at OpenSesame, we created a Flipboard magazine called 'Learn' and have found it is a great way to engage new readers.
Both Feedly and Flipboard offer these tools to make it easier for users to find and discover new content. Don't be surprised if other reader apps start copying this model–getting featured or claiming your name early on in a reader's content search could create a lot of great traffic for your content.
RSS & Social Media
Some speculate Google stopped supporting Reader because of the increasing usage of social media to find news. This is a very valid reason, as it is an easier way for people to subscribe to news they would like to follow on Facebook or Twitter. If you haven't so already, post your content to the big social media outlets, perhaps using automated means such as IFTTT. Make sure, however, to keep your RSS feeds running. RSS readers are often the "bees" that lead to great social media success. 
Regardless of whether you've been working on your RSS for years or are just getting started, now is a time of great change full of opportunity to expand your reader base. If you haven't gotten into RSS yet, we offer a course on how to use blogs to share information about your company.
Image Credit: Charles Nouyrit via Flickr