OpenSesame welcomes a variety of vendors to sell their content on OpenSesame. Sellers frequently ask how they can make the most of their seller account on OpenSesame. To make the most of the world's marketplace for buying and selling online training content, sellers have the authority to determine how to present their company's courseware on OpenSesame. Here are 4 ways to spruce up your seller profile to achieve optimal presence.
1. Determine Competitive Pricing
Sellers determine the retail price for each individual course and bundle they sell on OpenSesame. Since you know your content better than anyone else, we suggest you price your content a rate that is competitive in your market field. Courses on OpenSesame with an hour time length generally average $25-$30 per user. We suggest you determine prices that are realistic and in-line with enterprise buyer budgets.
Since OpenSesame is a B2B marketplace, we encourage sellers to offer volume discounts and site licenses for their content. Volume discounts allow organizations with multiple employees to purchase content in bulk at a discounted rate. Here is an example of a competitive volume discount schedule: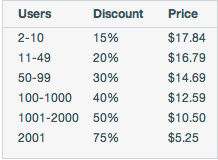 Site licenses allow companies to purchase a course and have unlimited access to the content for the duration of 12 months. Site license prices typically range from $1,000-$25,000 per license. Buyers only have the ability to access the content on their LMS after the ecommerce transaction and deployment has been complete. The content is not available to anyone except the employees accessing the buyer's LMS.
2. Construct and Publish Bundles
Bundles are two or more individual courses sold in one package. Corporate buyers generally purchase more than one course from OpenSesame. With this in mind, we highly suggest you create several bundles within your library. To create bundles:
Determine which individual courses to bundle together.
Determine a bundle title and price, and write a bundle description.
Send this information to support and OpenSesame will publish the bundle.
Try to keep similar course topics together when creating bundles. Here are three examples of popular bundles on OpenSesame:
3. Add Unique Course Images
A high resolution course image depicts quality content. Sellers who have unique course images keep the attention of buyers browsing their content on OpenSesame. Regardless of whether you use a stock photo or an image from the course, make sure the image relates to the topic of the course. This gives your company more credibility as a seller on OpenSesame and adds a stronger visual presence to your seller profile.
Sellers can add unique course images through their seller account on the Update Course pages, or send image files (.jpg, .png, etc.) directly to info@opensesame.com. If you plan to send images to OpenSesame in bulk, be sure to indicate which images correspond with each course.
4. Feature a Popular Course
Sellers have the ability to feature a course or bundle on their public seller profile page. To feature a course:
Log into your seller account.
Click the edit tab.
Scroll down to the field Make Featured Course.
Type the title of the course you want to feature.
Click Save.
We suggest you select the most popular course within your library or a course that is relevant to current training regulations in your field. Make sure you frequently update your featured course according to these requirements.